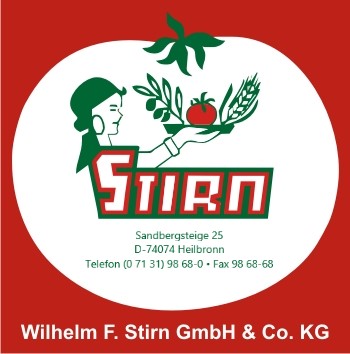 info(at)stirn.de
The company Wilhelm F. Stirn GmbH & Co KG was founded in 1923 in Genova (Italy) by Wilhelm Friedrich Stirn, and since then has additionally specialized in trading especially tomato products and olive oil, pasta, etc. Today our head office is located at Heilbronn (Germany) and we hold a leading position in our business Europe-wide.
The client and supplier contacts, sales and services are mainly managed by the following people:
Dipl.-Kfm. Dr. Christina Stirn
Dipl.-Kfm. Wilhelm K. Stirn
Dipl.-Kfm. Dr. Edgar Quadt
M.A. Dipl.-Kfm. Dr. Wilhelm M. Stirn
Isabell Mueller
In total our company comprises of 15 persons at your service.
The product range of tomato products includes:
Tomato paste (various concentration and brix degrees)
Tomato powder
Tomato pulp
Tomato dices
Pizza sauces
Tomato passato
Tomato juice
Tomato sauces, as co-packer (in tins, jars, Combi Block, Tetra Pak, etc.)
Tomato flakes
Bio tomato, etc.
Other products we further trade are:
Fruit Concentrates and Half-Concentrates
Olive Oil (bulk and bottled)
Rice (instant, pre-cooked)
Pasta products (Lasagne, Tortellini etc.)
Parmesan cheese
Balsamic Vinegar di Modena
Paprika Oleroresin
For these products we are working with suppliers and partners especially from Southern Europe. With the supplier we have maintained a relationship for several decades, this means a large amount of expertise, information, and market knowledge. Reinforced through continous contacts to scientific institutions and governmental departments we provide highly specialized and professional support to our clients as well as to our suppliers.
Like in the last decades, to make business through us will continue to be the most efficient, informative and successfull way for our partners.
Impressum:
Wilhelm F. Stirn GmbH & Co. KG, Sandbergsteige 25, D-74024 Heilbronn,
Registergericht Stuttgart HRA 101471
VAT-ID: DE 145809934
phG Stirn GmbH, Sandbergsteige 25, D-74024 Heilbronn,
Registergericht Stuttgart HRB 100391
Geschäftsführer: Marianne Stirn, Dipl.-Kfm. CAP Dr. Edgar Quadt